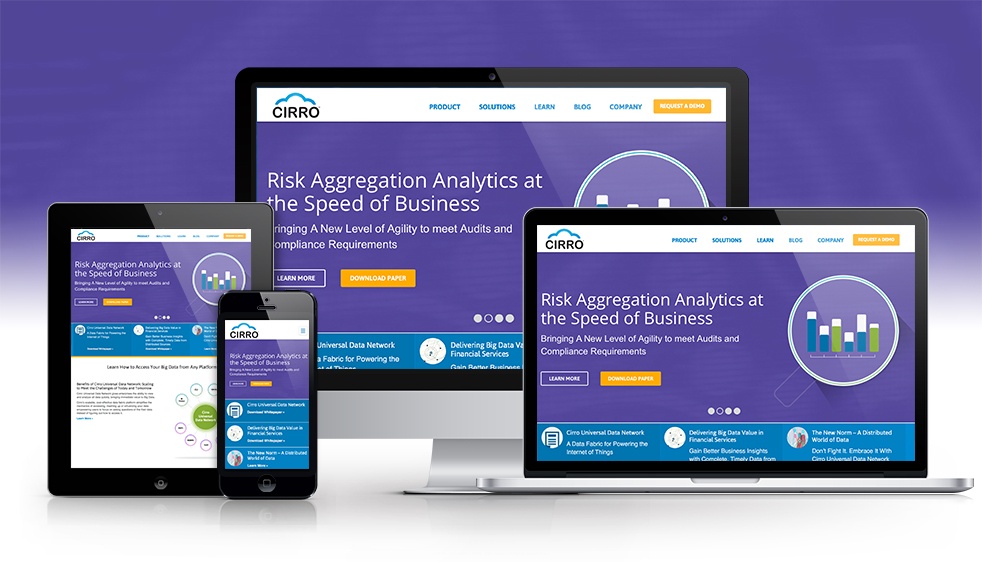 Zinc Solutions, an Orange County Web Design Agency, recently launched a new responsive website for Cirro, a technology company based in Orange County. The company needed a re-branded website that was mobile-ready, showcased an updated visual design, promoted value exchange resources in a lead generation capacity, and presented new content that was inline with their new brand identity and product information.
Cirro engaged the help of Zinc Solutions to rebuild a responsive technology website. Working closely with the product and marketing teams, the Zinc creative, content, and programming teams established the parameters for the new build. The solution satisfied all of Cirro's requirements in addition to going above and beyond baseline expectations.
The Cirro technology website is now responsive, with optimized experiences on smart phones, tablets, and computers alike. The website was programmed using best-practice coding and was implemented into a custom Content Management System (CMS) for ease of use by the company.
The visual design of the new Cirro website was designed to reflect the company's dynamic and dependable product, the Cirro Data Hub. Zinc incorporated clean lines, strategic whitespace, and applicable business graphics to both solidify their position as a Big Data software provider and a leader in their space. The Zinc content and design teams also worked closely with product managers to re-engineer the site architecture for an optimized and intuitive website that allows for easy navigation.
The Zinc content team worked closely with the Cirro marketing team to establish the optimal number of Calls to Action, persuasive headlines, and dynamic buttons to encourage prospects to download whitepapers and other resources. Doing this created a responsive technology website with a strong emphasis on lead generation.
In addition to working with the website, Zinc Solutions created content for Cirro's social campaigns. Between blogs, tweets, posts to Facebook, and LinkedIn updates, the Zinc content team was an integral part of publishing information surround Cirro and their Cirro Data Hub.
For more information on responsive web design and the services Zinc offers, get in touch. We'd love to chat with you about how we can help your organization.