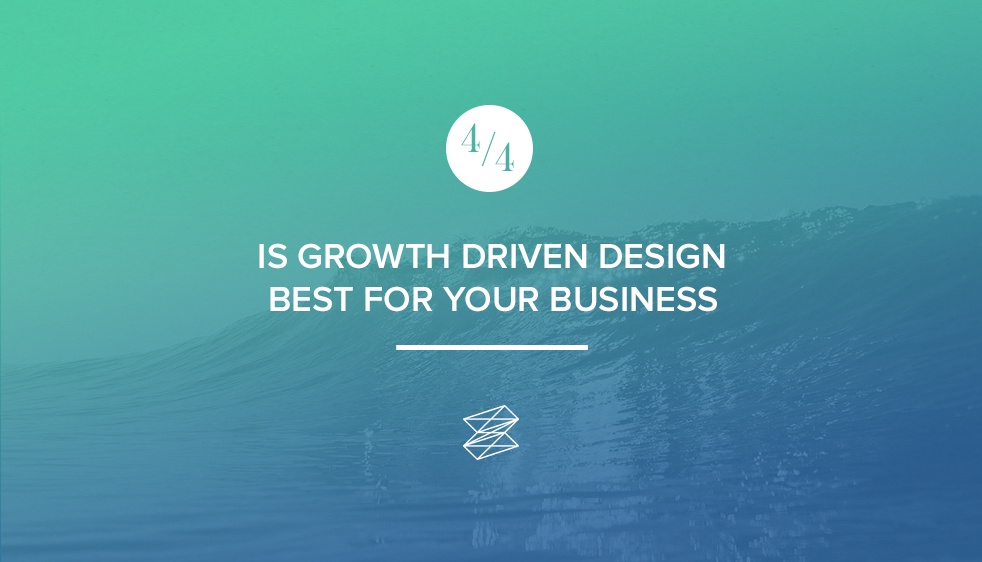 The goal of any business website is to draw people in and push them toward making a purchase.
Today, businesses maximize their ROI by actively analyzing their site traffic and modifying their site to drive traffic in a specific direction. This process is known as Growth Driven Design, and it is provides a number of benefits over traditional web design. Deciding whether or not Growth Driven Design for you comes down to three major questions.
Can You Afford the Risk of Traditional Web Design? - Traditional web design is fraught with risk for companies of any size. Typically these sites cost between $15-18,000 up front, and they take more than six months to develop, often times running over budget and past deadlines. In addition, they are built on assumptions and guesswork based on previous year's trends without taking into account the actual traffic on your site. The result is that you could spend 7-8 months building a site that doesn't accurately reflect your customer's needs, and not have the opportunity to change it for another 2-3 years.
Do You Want to Serve Your Customers Better? - The biggest benefit of growth driven design lies in the fact that you can put up a basic site in as little as a few weeks and immediately start gathering data from your customers. You will be able to see where and how people are spending their time on your site, identify any bottlenecks in the site, and determine what information your visitors are looking for most. As you gather this data, your growth driven design will evolve to meet the demands of your visitors, serving them more completely and showing that you care about your customer's needs. This makes your website your best salesperson long term.
Do You Want to Stretch Your Budget? - The beauty of growth driven design is that you are really signing up for a long term marketing partner, not just a one-time design. Instead of spending a small fortune up front for your design, you will pay a monthly subscription. This subscription will include ongoing analysis, development and meetings with your web design partners to assess priorities for your site and what direction you want to go. This makes growth driven design accessible to smaller companies, and offers more flexibility for companies to adjust their strategy over time, making every dollar count along the way. If you are trying to decide whether or not growth driven design is best for your business these are the three questions you should be asking yourself. GDD offers minimal risk with the promise of better results at a price that is easier to handle. You can launch your site sooner, and immediately offer your customers greater value based on real time data, and it all begins with a simple framework set up by you and your web design partner. With a single consultation you can outline definite goals for your site and begin planning your design timeline. For more information about the benefits of growth driven design and how it can create immediate growth, fill out our contact form to get in touch with our team today!
Interested in reading more about Growth Driven Design?
5 Benefits of Growth Driven Design