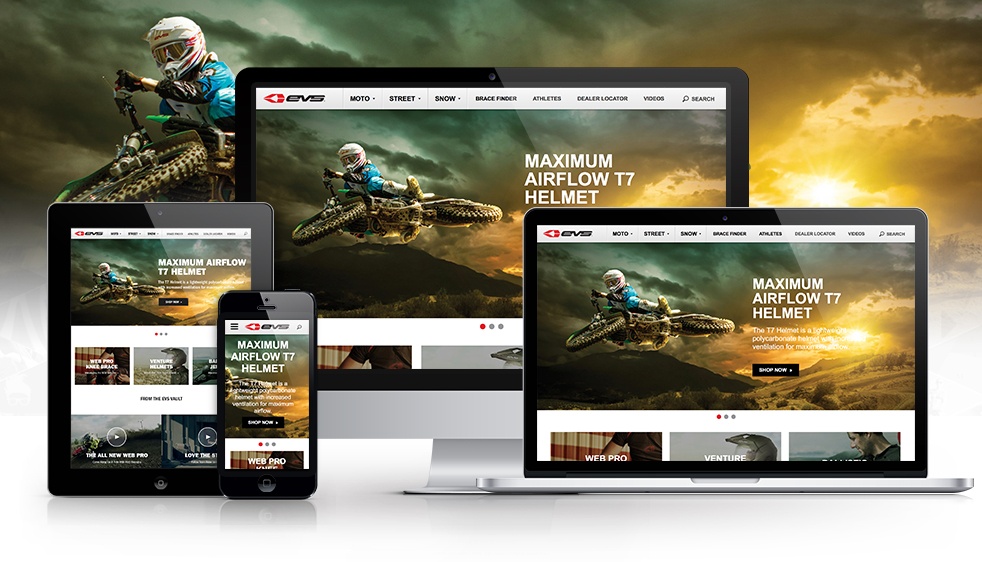 EVS, the leader in protective performance gear, needed a new responsive eCommerce website on which to sell their leading merchandise and establish their brand lifestyle online. EVS wanted to ensure their motorsports brand and lifestyle were highlighted in the new design, and they engaged local Orange County Web Design Agency Zinc to design, program, and integrate the appropriate technologies into the new website. View Site
Zinc Solutions worked with EVS brand leaders to select the appropriate technologies for the new website. Together they selected Magento Enterprise as the eCommerce platform, and they selected a custom CMS platform leveraging WordPress as the solution for marketing content. Both of these keystone technologies allowed for easy content and product management for EVS brand and content managers, and integrations with further site functionality.
The new EVS website is a strong, responsive eCommerce website that supports the brand, boasts seamless integrations between Magento, WordPress, Quickbooks, various social media platforms, and a leading email technology for digital promotions and newsletter blasts.
For more information about Magento Enterprise website design, please contact us here.