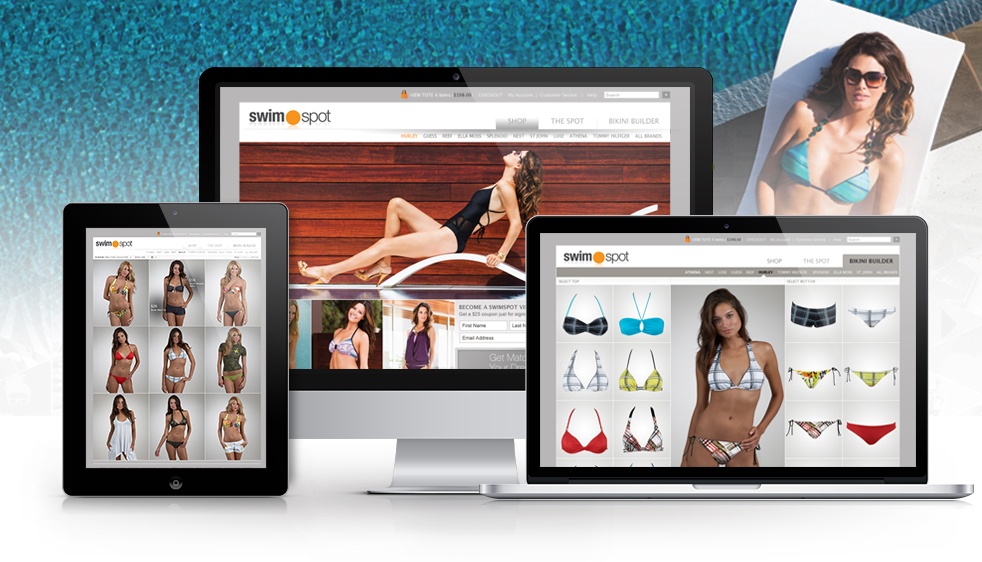 RAJ Manufacturing has been a leading fashion house in the swimwear industry for decades. As one of the largest swimwear design and manufactures in the world RAJ has produced for such notable brands as Guess, St. John's, and Hurley to name a few.
RAJ approached Zinc early in their process of creating a direct to consumer ecommerce brand and site that would deliver an online experience as luxurious as their swimwear. The brand would be named SwimSpot, and the fully integrated, brand focused ecommerce site needed to be live in eight weeks in time for a "Cyber Monday" release.
Real Time ERP Integration with Netsuite
Swimspot selected Netsuite as its ERP system, and a fundamental requirement for Zinc's solution was that the entire online store seamlessly integrated with Netsuite. The communication between the online store and Netsuite is a real time bi-directional feed that allows Swimspot to manage their business within their ERP system and have their efforts simultaneously reflected on their website. Swimspot can also update their entire site to a new season of product simply by activating in Netsuite.
Sell Outfits as a Set. What a Concept!
SwimSpot's commitment was to provide customers a better online shopping experience that allowed visitors to view and purchase their product collections as they were meant to be shown. Typically matching swimwear pieces are sold as separates in different categories. The Zinc development team pushed technology, and the status quo to set the bar higher. The SwimSpot product pages offer the entire collection together on one page resulting in better merchandising and more sales.
An Industry First: Build Your Own Bikini
Zinc designed and developed the Bikini Builder shopping experience to support SwimSpot's commitment to providing customers a completely new and innovative way to shop and purchase swimwear online. Customers get to mix and match various bikini tops and bottoms customizing color combos and styles like never before. This feature is not just for show. Once the ideal bikini combo is selected it's ready to buy.
The Spot
Zinc created the Spot from the idea that this section is more then just a blog, it's a dynamic social marketing platform where all blog and social media come together and are simultaneously feeding other social sites as well as various sections within the SwimSpot site. The Spot also organically integrated the most accessible social networking sites, like Twitter, Facebook and YouTube, to enhance contributions and a sense of community. he Spot blog posts feed automatically into the SwimSpot branded Facebook fan page, maximizing touch points and driving traffic back to the SwimsSpot site. SwimSpot tweets feed dynamically into the Spot, while Spot posts automatically send out tweets. The result allows SwimSpot to reach maximum touch points with minimal effort. Videos streams are highlighted in the Spot, and included in posts simply by adding and tagging in Vimeo.