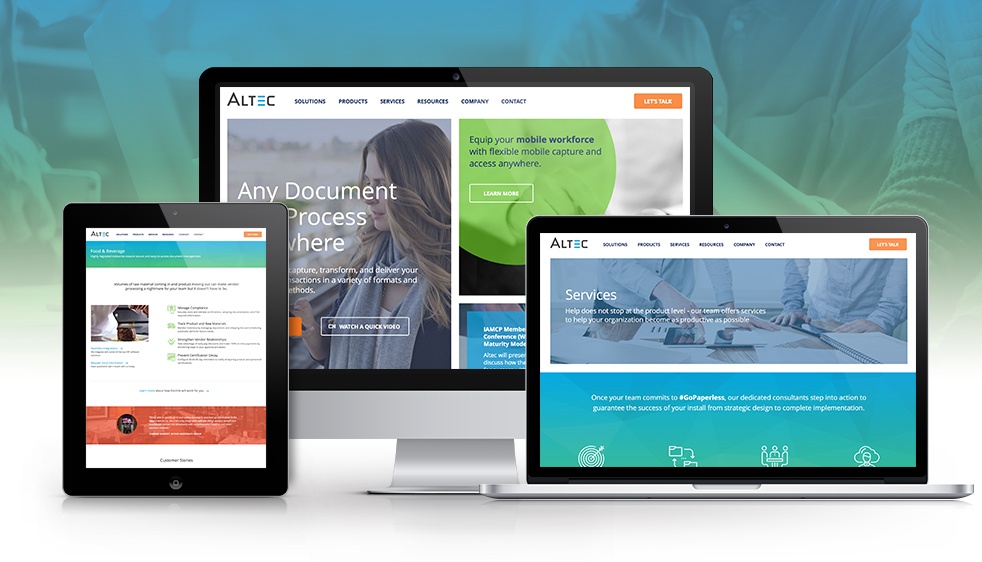 B2B brand strategy and website design is something we're passionate about here at Zinc, so we're particularly excited to share our latest work.
Altec, a leading document management company here in Orange County, California, turned to us to refresh their corporate identity. They were looking for a fresh approach to their logo, new colors, and a website. Altec is a 25 year-old software company, and it was an honor working with them to update their brand.
Our team created a strong brand strategy for Altec, as well as their product DocLink, by visually combining their document management solution with the company name to create a unique and modern mark. We designed the logos to be part of the same brand family, with font and icon similarities.
We also introduced a contemporary color palate, unique and modern icon styles, and fresh visual assets to the brand to set it apart from its competitors and reflect the market position the veteran company maintains.
We worked with brand managers over at Altec to create a content strategy that matches the mobile ready website we designed. By talking with subject matter experts, our team was able to succinctly write and manage the content for the Altec brand and DocLink products.
If you're interested in B2B website design or B2B Brand Strategy, we would love to talk to you. Get in touch with Zinc today to learn how we can help your organization refresh your identity.